"Painting is the song of the heart"
The artwork [by L'Arche artists] offers us the gift of living in the moment. It embodies the innate human desire to create a personal, physical mark which holds our fragile identity in the strength of an intentional creative gesture. Click here to read more.
Community arts create a world where everyone is valued and belongs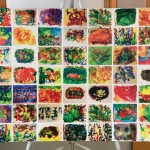 The community arts movement and organizations like Art Hives build stronger communities and a more human society. L'Arche celebrates the unique gifts of artists and the community creative spaces where they thrive. Click here to read more.