L'Arche Montérégie (Beloeil) Art Workshop "Le Pot-en-Ciel"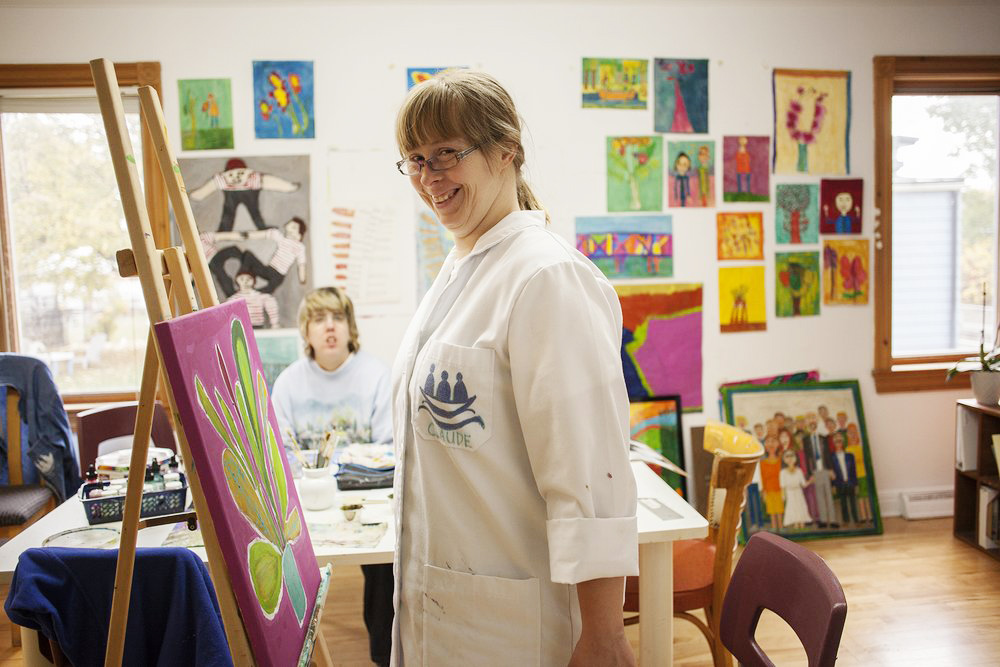 In this workshop, artists learn to view their surroundings in a new way as they take on a variety of different artistic mediums. It's an inspiring and lively place where all artists are called to evolve, reinvent themselves and persevere and where their artwork instills wonder and contemplation. Click on the photograph to read more.
L'Arche Cape Breton: The Angel's Loft
At L'Arche we believe every person has a unique gift to offer the world.  Art is one of the ways we see that revealed.  Art is like a language in which each person can learn to speak their own truth.  At our studio, The Angel's Loft, at L'Arche Cape Breton we produce weaving, framed art, paintings, drawings, cards, and we are always exploring new media and techniques.  Our intention is to make sure each artist has a project they are passionate about and can do well.  All of our artists have intellectual disabilities and their work has shown or sold widely in art shows and markets throughout Nova Scotia and around the world."
L'Arche Saint-John: Creative Connections
L'Arche Saint John seeks to make known the gifts of all people and to engage our culture in fostering a more compassionate society, by drawing together people with and without intellectual disabilities – people with a great variety of abilities and vulnerabilities.
If you venture the streets of Uptown Saint John, at 95 Prince William Street you will find Creative Connections, our lively and growing arts scene where members of our community, along with many friends, come together and collaborate: creating beautiful art, through various forms and mediums, that allows each of us to learn and to grow, while also creating a welcoming inclusive environment where all participants are safe to express themselves.
Click here to see another video "Creative Connections Voices."